TX16/16S M.O.D FLYSKY Hall Sensor Assembly Kit

With the mod offered here, you can easily attach the high-precision CNC milled metal FlySky digital hall (non-contact) gimbals to your TX16S/T16 radio.
With FlySky digital hall-effect gimbals you can dramatically improve the stick accuracy, temperature stability and sampling resolution of your radio.

Due to almost no wear of critical sensing elements, the non-contact hall gimbals have a longevity advantage over contact potentiometer gimbals.
FlySky digital gimbals differ from standard hall-effect gimbals, available from the original TX16S/T16 radio manufacturers,
by utilizing a 3D magnetic field sensing chip (Melexis MLX90393) instead of a simple analog hall-effect sensor per gimbal axis.
With FlySky gimbals you can put the temperature drift of a typical hall gimbal to the past, but still enjoy the robustness of a non-contact gimbal (when compared to e.g. RDC90 gimbals).
The FlySky digital hall gimbals are supported by EdgeTX. Support for OpenTX is also available in a developmental fork.
The kit includes:

* 3D printed adapter rings (2+2 parts)

* mounting screws and nuts

* cable harness

The adapter rings can be directly mounted on TX16S. On T16 you need to cut first two small studs (see image):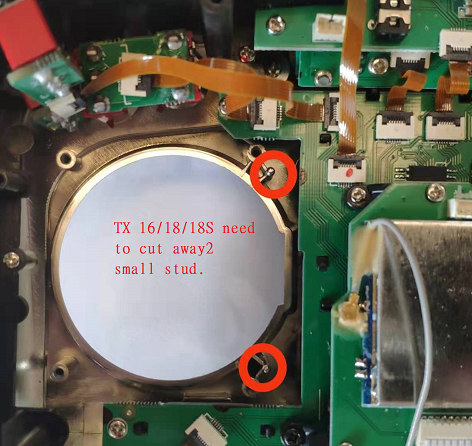 The FlySky digital hall gimbal is not included in this set. You need additionally either the FS-HZCZ03-ADJ or the FlySky Paladin gimbal set.

Please bear in mind that this product is a non-certified 3rd party accessory. We take no responsibility if you damage your radio by mounting or operating it.

T16S directly install.
T16need to cut away two small studs
https://github.com/EdgeTX/edgetx/wiki/Flysky-Hall-Sticks-Mod


*********FS-HZCZ03-ADJ not including, ORDER HERE***********
http://www.hawk-creation.com/index.php?route=product/product&product_id=6863
***This product is a modified product, such as the user during the modification process,
Cause damage to the user's remote control, the user shall bear the risk
TX16/16S M.O.D FLYSKY Hall Sensor Assembly Kit
Brand: Hawk Creation
Product Code: TX16-MOD
Availability: In Stock
Tags: TX16-MOD